The VMCE certification confirms your knowledge and skills to perform different tasks with Veeam solutions. In addition, it demonstrates that you hold the necessary level of technical expertise to implement, configure and manage Veeam Availability Suite correctly.
How to Become A Veeam Certified Engineer (VMCE) 2021?
Veeam Availability Suite v11 was released on 24 Feb 2021, the Veeam Certified Engineer (VMCE) certification exam was rebuilt, and now there is a new Veeam Availability Suite v11: Configuration and Management training course.
The new training course allows system administrators and system engineers responsible for safeguarding data with Veeam Availability Suite. While Veeam offers easy-to-use and uncomplicated solutions, customer environments may be more difficult. So whether you are a customer or a partner, learning how Veeam works in particular deployments is vital to getting the best out of your Veeam solution.
Veeam certification holds more value to their companies, improves performance, and reduces costs by being ahead of the curve.
Veeam Certified Engineer (VMCE) is a technical certification presented by Veeam to document proof that an engineer has the required expertise to correctly architect, implement and configure Veeam Software Solutions. You need to follow a course and pass the related exam to gain this certification.
Although the VMCE exam is similar to VCP, there are some considerations: on the PearsonVUE site, you require to build a new account with a new login/password pair; nothing complicated, but do it also if you do it are going to plan the exam soon. After this, the booking process is the same as a VCP exam, to make an example.
Although Veeam delivers simple-to-use products, customer scenarios can be more challenging. Therefore, regardless of whether you are a client or a partner, learning how Veeam works in different installations is critical to increasing the value of your Veeam product. The Veeam Certified Engineer VMCE 2021 offers a grasp of Veeam Availability Solution.
Candidates are checked on their skills and whether they can build and administer a Veeam Availability Suite installation in technical possibilities in on-site, off-site, and hybrid setups. All the candidates holding VMCE 2021 can back up the company's data and assure that all this data can be restored.
VMCE Certification Earning Criteria
At least six months of commercial experience using the Veeam Availability Suite is recommended. Expertise with a solid grasp of systems, storage, network management, and virtualization. You can take the exam if you already hold a VMCE 2020 certification, have done the VMCE 2021 training course within the last year, or have been fortunate sufficient to secure a seat on the VMCE 2021 training course.
How to Prepare for the VMCE Exam?
To become a Veeam Certified Engineer 2021, please follow the steps below:
Step 1: Enroll in a VMCE Class
The first step is to attend a three-day class led by a VMCT instructor at one of the Veeam Authorized Education Centers (VMAEC). It is a prerequisite before you are permitted to sit for the exam. The schedule is a three full-day, instructor-led course and will cover the entire Veeam Availability Suite (Veeam Backup & Replication and Veeam ONE). During class, you will experience in-depth theory and hands-on labs to aid you in better managing data with modern protection.
Step 2: Review the Official Study Guide
VMCE course will include an official study guide and lab guide from Veeam. For the detailed training content, please refer here.
Step 3: Review New v11
Veeam Backup & Replication v11 balances your data protection objectives with a 4-in-1 solution, merging storage snapshots, backup, replication, and continuous data protection under a single platform. Protect, manage and release your data with v11, with over 200+ new features and updates. You must mainly review the new features with so many features if you upgrade from VMCE 9 or earlier.
Step 4: Review the User Guides
To get more detailed information on Veeam Availability Suite, Veeam gives a complete guide available for the public to assess. Veeam also publishes a series of "How to" videos useful for revision.
Step 5: Practice, Practice, and More Practice
Practice VMCE mock exams before you appear for the final exam. While attempting these tests, they help increase your confidence and overcome mistakes. Here, you are familiar with the test pattern and are also made to experience the tips for embarking on the actual test. Still, you can evaluate the earlier version to get a similar experience with the questions' format and difficulty.
Scoring System and Getting VMCE Certification
Often, the VMCE exam questions had initially short sentences; however, Veeam has decided to broaden them a little more, selecting graphics and small scenarios over a single statement. You liked this since the additional time and text allow you to double-check your answer to the question and ensure you select the correct answer.
This exam must be taken at a Pearson VUE testing facility, and since the pandemic started, there is an option to take the exam at home. You will see the option on the official page is available to you. The passing score for your exam is 70%
After passing the final Veeam exam, you will have your VMCE credentials. You can use the VMCE 2021 badge and download the digital certificate below on your VMCE page. If you are already certified for VMCE 2020, you may qualify to take the new exam to upgrade your certification.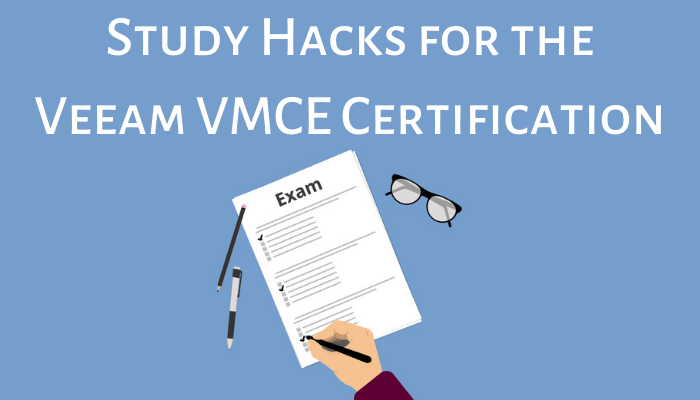 Conclusion
The VMCE shows that you know how to define and implement the core concepts and practices of Cloud into your organization's infrastructure. In addition, it helps to promote your career with this Veeam certification.