Achieving the SAS Programming Fundamentals Certification offers several benefits to individuals seeking to establish their expertise in SAS programming. This certification confirms your knowledge and skills in SAS programming fundamentals and demonstrates your commitment to professional growth.
The Benefits of Achieving SAS Programming Fundamentals Certification
Here are more detailed points about the advantages of achieving the SAS Programming Fundamentals Certification:
1. Skill Validation
The certification process requires you to demonstrate your knowledge and proficiency in SAS Programming Fundamentals. It covers data manipulation, management, reading and writing various data types, and performing basic statistical procedures. By completing the certification, you validate your skills in these areas, providing employers and clients with tangible evidence of your competence.
2. Industry Recognition with SAS Programming Fundamentals Certification
SAS is a leading software suite widely used in finance, healthcare, marketing, and government industries. The SAS A00-215 Certification is recognized and respected within the industry, as the SAS Institute, the creator of SAS software, issues it. This recognition adds credibility to your profile and distinguishes you as someone who has met the standard set by the industry leader.
3. Competitive Advantage
The SAS Programming Fundamentals Certification gives you a distinct advantage in a competitive job market. Employers often look for candidates who have relevant certifications, as it helps them quickly identify individuals with the necessary skills. By holding this certification, you stand out from other applicants and increase your chances of being selected for job interviews and career advancement opportunities.
4. Expanded Job Opportunities
SAS programming skills are highly sought after in various industries. By becoming certified, you broaden your range of job opportunities. Employers specifically mention SAS certification as a preferred qualification in job postings for roles such as SAS programmer, data analyst, statistical analyst, research analyst, or data scientist. This certification can open doors to new positions and industries requiring SAS expertise.
5. Professional Development with SAS Programming Fundamentals Certification
The journey to SAS certification involves studying and mastering the fundamental concepts and techniques of SAS programming. This process deepens your understanding of the software and its applications, improving your problem-solving and analytical thinking. You gain practical experience by working with datasets, manipulating data, and implementing statistical procedures. The certification journey is a continuous learning experience, helping you stay updated with the latest advancements in SAS programming.
6. Networking Opportunities
Pursuing SAS A00-215 Certification can connect you with a community of SAS professionals. Engaging with this community through online forums, user groups, or conferences provides opportunities to network with like-minded individuals. Networking allows you to share experiences, exchange ideas, and learn from experienced practitioners. Building connections within the SAS programming community can lead to collaborations, mentorship, and career growth opportunities.
7. Personal Satisfaction by Achieving SAS A00-215 Certification
Achieving the SAS A00-215 Certification is a significant accomplishment that brings personal satisfaction and pride. It represents the culmination of your hard work, dedication, and commitment to professional growth. The certification is a testament to your expertise in SAS programming and reinforces your passion for data analysis and statistical modeling. The sense of achievement and personal satisfaction derived from earning this certification can motivate you to pursue further advancements in your career.
8. Enhanced Job Performance
Preparing for the certification exam requires a comprehensive understanding of SAS Programming Fundamentals. As you delve into the intricacies of data manipulation, management, and statistical analysis, you acquire valuable skills that directly translate into improved job performance. Your ability to effectively utilize SAS software to analyze data, generate insights, and make informed decisions is greatly enhanced.
9. Recognition of Specialized Knowledge
SAS Programming Fundamentals Certification demonstrates your specialized knowledge of SAS programming fundamentals. This recognition sets you apart as an expert in your field and increases your credibility when working with colleagues, stakeholders, and clients. It signals that you have acquired a deep understanding of SAS and can apply it to solve complex data challenges, contributing to the success of projects and initiatives.
10. Professional Advancement
Earning the SAS Certified Associate – Programming Fundamentals Using SAS 9.4 Certification can be a stepping stone to professional advancement. It provides a strong foundation for pursuing more advanced SAS certifications or specialized areas within SAS programming, such as SAS Data Management or SAS Advanced Analytics. This continuous learning and progression in your SAS skills can lead to higher-level positions, increased responsibilities, and more significant earning potential.
11. Employability and Job Security
SAS is widely used in industries that rely heavily on data analysis and decision-making. You enhance your employability and job security by holding a SAS A00-215 Certification. Employers value candidates with SAS expertise as they can contribute to data-driven strategies, improve business processes, and drive innovation. In a rapidly evolving job market, having a recognized certification demonstrates your commitment to staying relevant and adaptable to changing industry demands.
12. Access to SAS Programming Fundamentals Certification Resources and Support
SAS A00-215 Certification provides you access to a wealth of resources and support from SAS Institute. As a certified professional, you gain access to SAS communities, forums, and online resources where you can engage with experts, access documentation, and seek assistance when encountering challenges. This ongoing support ensures you can continue enhancing your SAS skills and staying connected to the broader SAS community.
13. Demonstrated Commitment to Quality
SAS A00-215 Certification represents your commitment to quality and professionalism in data analysis. By going through the rigorous process of earning the certification, you showcase your dedication to mastering SAS programming fundamentals and delivering high-quality results. This commitment to excellence can earn the trust and confidence of employers, clients, and colleagues, enhancing your professional reputation.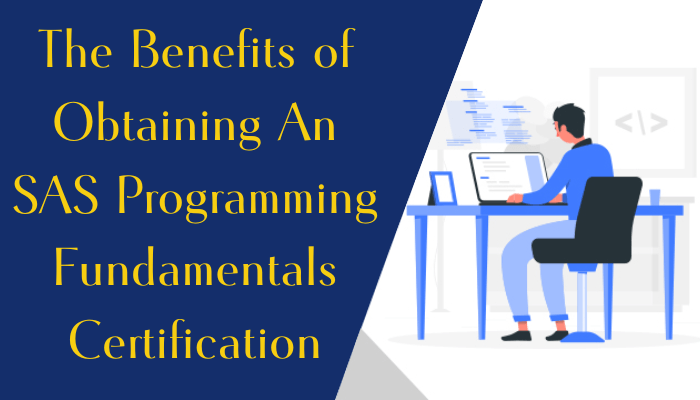 In Summary
Achieving the SAS Programming Fundamentals Certification offers a range of benefits, including enhanced job performance, recognition of specialized knowledge, professional advancement opportunities, increased employability and job security, access to SAS resources and support, and demonstrating a commitment to quality. These benefits contribute to your professional growth, career prospects, and overall success in SAS programming.