These eras Business Intelligence and Analytics have become an integral component of all companies worldwide; whether it is medium-scale or large, SAS Big Data Professional certification will be an add-on to your Resume. It is seen that the need for SAS and Analytics professionals is growing significantly day by day.
Not only this, there is a steep rise in the SAS job opportunities, and there are well-paying and respectable jobs in the global market for anyone who is SAS certified. It will help you in developing your skills and give you an edge over others. It will increase your reliability within your organization as a professional who is committed to personal growth.
SAS Big Data Professional Certification
Show your ability to use the tools and technology designed to manage big data. The SAS Certified Big Data Professional program delivers the extra edge you are looking for. This is a level 1 course, and it will help you to prepare for two exams.
SAS Big Data Preparation, Statistics, and Visual Exploration certification exam.
SAS Big Data Programming and Loading certification exam.
This is a level 1 exam to become SAS Certified Data Scientist; after this course, you can go for level 2 exams, i.e., Advanced Analytics Professional.
If you clear both exams, then only you will become a SAS Certified Data Scientist.
A Certified Big Data Professional has demonstrated proficiency in the analysis practices and technology concepts and mechanisms that comprise and are featured in contemporary Big Data environments and tools.
SAS certifications equip you with analytics tools to transform data into intelligence, as you will be able to manipulate and gain insights from big data, including making business recommendations and deploying models at scale.
This SAS Big Data Professional certification is excellent for you if you are a newcomer in the SAS domain. This certification is a perfect place, to begin with if you need to learn SAS from the basics. Plus, this is the only certification in SAS which is recognized internationally. The SAS institute gives this certification.
SAS Certified Big Data Professionals have demonstrated the ability to use open source and SAS data management tools to prepare big data for statistical analysis. They are skilled in such tasks as recognizing and overcoming big data challenges, accessing, transforming, and manipulating data, applying fundamental statistical techniques, working with SAS, Hadoop, and Hive, and exploring and visualizing data.
Tips for Passing a SAS Big Data Professional Certification
Once you have decided to take the SAS Big Data Professional exam, you must begin studying for it. We have elaborated on this step-by-step guide that you can use during your preparation. See the primary steps towards passing Big Data Professional below:
1. Get Familiar with the SAS Big Data Professional Exam Syllabus
Go to the official website if you do not understand where to start your SAS Big Data Professional exam preparation. Apart from the main details, you will find a detailed list of topics you need to cover for your upcoming certification test.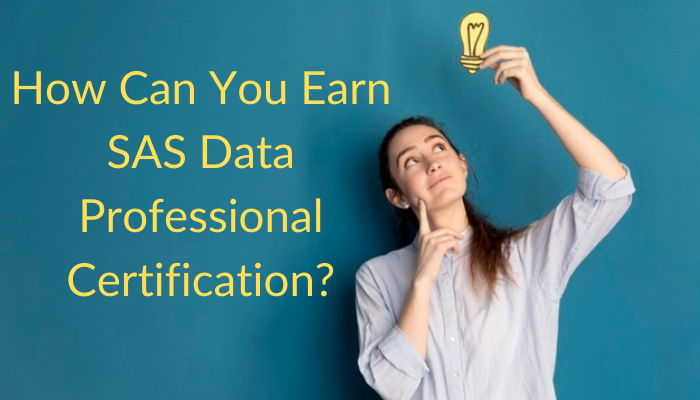 2. Search the Study Groups and Forums
Join a few study groups or forums for SAS to get a lot of collective learning. Share and gain knowledge from publicly shared resources over those groups and forums. Gain insight into complex concepts and prepare yourself for the certification exam.
3. Check Your Readiness Using Online SAS Big Data Professional Practice Tests
When you have done all the preparations, it is time to check your information with the help of SAS Big Data Professional practice tests. This must be the last step of your preparation process but is as essential as any abovementioned steps.
Final Words
Now, you have brief knowledge about how to address the Big Data Professional examination. You need to know the details associated with this exam before you can plan on attempting it. When you are not conscious of what it means to be SAS certified, you will never have the motivation to give your utmost attempt to clear it.
Therefore, this article was a comprehensive Big Data Professional preparation guide to educate yourself about the right way to appear in this examination. We recommend you enroll in the SAS training course and practice tests to start your preparation.
If you intend to seek a career with SAS Big Data Professional, this certification might be the best start!