The "SAS Data Integration Developer" job is not much of a buzzword for developers, especially those beginning their IT careers.
Learn how to write SAS programs and enter the world of 4th generation programming even without prior programming knowledge. Understand the details of the SAS macro facility to automate your work and reduce the time and effort in writing and supporting programs. Learn how to process SAS data using Structured Query Language (SQL). Move up the ladder in Data Management Technology and learn how to keep the extraction, movement, transformation, and data loading between systems. SAS Data Management products support migrating data between nearly any platform, database, and file format.
What Is a Data Integration Developer?
A data integration developer is an integral part of the IT industry and serves its purpose by integrating the various components of the software. This includes the packages, APIs, networking, and all the ins and outs of the project you are working on. Essentially, you will modify the generic product and restyle it based on your firm's needs, which will ensure that the product suits your particular needs and serves its purpose.
When looking for a data integration developer job description, this altercation and management are critical roles of an integration developer. Your tasks can further be more exclusively specified. Being a data integration developer means that you will primarily handle data integration throughout the various databases in the system. Therefore, you will be required to work with vast chunks of data and ensure that the data is not hampered at any cost. Also, you have to ensure that you maintain the system and ensure that it is free of bugs and updated regularly.
For this, you have to understand the demand of the users very clearly and create a blueprint based on that demand. Further, to execute it, you have to ensure that you have the hardware and software intact and work for hand in hand. With the consumer's changing demands, you would be required to change the system and subsequently play with newer technologies.
Who Should Attend?
Before attending this course, you should have experience using computer software. Specifically, you should be able to:
Aspirants want to become data managers and build a strong SAS programming foundation to manipulate data, perform queries and analyses, and generate reports.
Aspirants want to develop a skill set for building data warehouses and data marts while providing a high level of data quality and accessibility for business intelligence and data analytics applications and delivering data to the right place, at the right time, in the correct form, to the right person.
How Can You Become a Data Integration Developer?
To become a Data Integration Developer, graduation in information technology is required. Further, you must ensure that you have experience working with various application development languages like Java, .Net, Flutter. Many integration software is available in the market, and handling and working with them is also crucial.
During the integration process, it is required that you know the various modules of your project and the entire big picture. This is important so that you integrate each part incorrectly. Before hiring, a company is bound to require experience of about two or more years to hire you, and therefore, you should earn practical work experience throughout your degree to use the firm.
SAS Data Integration Developer: Job Description
Data Integration Developers contribute towards the data integration design and development of multi-terabyte marketing solutions that integrate and optimize clients' data across numerous sources. Data Integration Developers will be immersed in developing and maintaining marketing database solutions to meet client business objectives.
Responsibilities:
Contribute to Data warehouse architecture and ETL design
Build and maintain SQL procedures and ETL processes
Leverage the common frameworks and components
Comply with development standards and best practices
Collect and leverage any additional reusable components during a deployment
Perform development and unit testing
Mentor other development resources; assist with code reviews
The successful SAS Data Integration Developer will:
Deliver high-quality code and design documents with minimal supervision
Be versatile and ready to take on new challenges across various projects and technologies
Have an increased sense of urgency to deliver work on time
Design solutions to meet client needs
Support others through leadership/management/mentoring
The position regularly interacts with a wide range of internal teams (including Quality Assurance, Campaign Management, Business Intelligence, Information Technology, Developers, Project Managers) to support the development and ongoing maintenance of the solution.
Member of the Development Community
Member of designated Capability
Member of account/project team(s)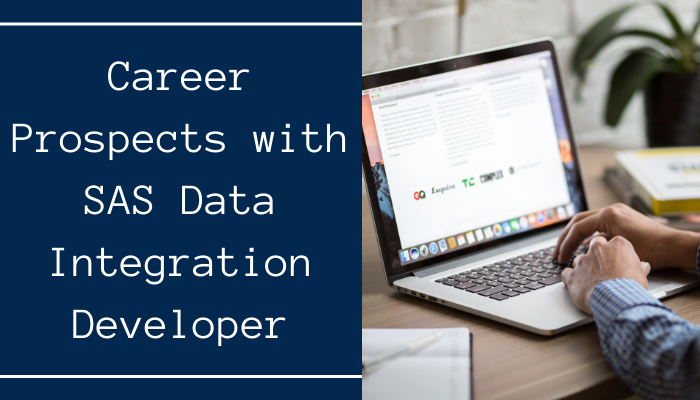 What Salary Can You Expect As a Data Integration Developer?
Data Integration Developer is one of the high grossing sectors to expect a handsome payment. As noted over a few years, the average salary of an integration developer is about $96,000 in the United States. People with more experience will be likely to earn higher pay. So, if you are one of the top-notch integration developers, your salary is expected to be a big figure that might be around $133,500 per year. This amount is bound to change depending upon your experience and skills.
Keeping in touch with the latest technologies in your sector is always suggested to gross higher. A fresher in this sector might earn about $65,000, and this is due to the lesser hands-on experience with real-world problems. As you grow over the years, your job also fares you more, and you can get more money.