The QSDA2021 exam is a certification test designed to validate an individual's skills in using data analysis tools and techniques. The exam is intended to assess your proficiency in understanding data analysis concepts, the ability to use various analytical tools, and the skills to apply those tools in a real-world context.
Passing the QSDA2021 exam can be an excellent way to enhance your career prospects in data analysis. However, the exam is complex, and you must be prepared to pass it. The best way to prepare is to use quality study materials to help you learn the necessary skills and knowledge.
Understanding the QSDA2021 Exam
To find the best resources for the QSDA2021 exam, it is essential to understand its format and content. The QSDA2021 exam consists of 50 multiple-choice questions; you have 120 minutes to complete it. The exam covers different topics related to data analysis, including:
Identify Model Requirements (10%)
Design Data Models (30%)
Build Data Models (40%)
Validate Data (20%)
To pass the exam, you are required to score at least 58%. You can take the exam online or at an authorized testing center.
Importance of Quality Study Materials for the QSDA2021 Exam
Preparing for the QSDA2021 exam requires a significant investment of time and effort. Quality study materials can make the process more manageable by providing structured learning material and comprehensive practice exercises. Using quality study materials can help you:
Understand the exam format and content.
Learn the essential skills and knowledge required for the exam.
Practice with real-world scenarios and examples.
Identify your strengths and weaknesses and concentrate on improving them.
Best Resources for QSDA2021 Exam Preparation
Here are some of the best resources for QSDA2021 exam preparation:
1. Official QSDA2021 Exam Study Guide
The official Qlik Sense Data Architect exam study guide is an excellent resource for anyone preparing. The study guide covers all the topics included in the exam, provides detailed explanations, and includes practice exercises and sample questions. The study guide is available for purchase on the official Qlik website.
2. Online Courses
There are many online courses available that can help you prepare for the QSDA2021 exam. These courses are usually designed by experts in the field and provide comprehensive coverage of the exam topics.
3. Assess Your QSDA2021 Practice Tests
Practice tests are an excellent way to assess your exam readiness and identify improvement areas. Many websites offer practice tests that simulate the QSDA2021 exam environment and provide detailed explanations for the correct answers.
4. Study Groups and Forums
Joining a study group or forum can be a great way to connect with others preparing for the QSDA2021 exam. These groups can provide study tips, helpful resources, and a supportive community.
Importance of Finding the QSDA2021 Exam Study Strategies
Preparing for the QSDA2021 exam can be daunting, especially if you require help figuring out where or how to start. Finding the best study strategies and resources is crucial for success on the exam.
The QSDA2021 exam tests your knowledge and skills in Qlik Sense data analysis. It covers various topics, including data modeling, visualization, data preparation, and advanced analytics. To pass the exam, you need to have a strong understanding of these topics and be able to apply them in real-world scenarios.
Here are some reasons why finding the best study strategies for the QSDA2021 exam is essential:
1. Maximizes Your Learning Potential
Using the proper study strategies can help you learn more effectively and efficiently. It allows you to focus on the essential concepts and skills likely to be tested on the exam. With the right approach, you can cover a lot of material in a short amount of time and retain the information better.
2. Boosts Your Confidence and Performance
You can confidently approach the exam with a solid study plan and resources. You will know that you have prepared thoroughly and have the knowledge and skills required to succeed. This can help you perform better on the exam and avoid the stress and anxiety of being unprepared.
3. Saves You Time and Money
Using the proper study strategies and resources can save you time and money in the long run. By focusing on the essential concepts and skills, you can avoid wasting time on irrelevant or low-priority material. You can also prevent the cost of retaking the exam by passing it on your first attempt.
4. Helps You Stand Out in the Job Market
Becoming Certified Qlik Sense Data Architect is a great way to demonstrate your expertise and stand out in the job market. Employers often look for candidates with a strong understanding of data analysis who can apply it to their work. A QSDA2021 certification can help you land a job or advance your career.
5. Improves Your Overall Data Analysis Skills
Studying for the QSDA2021 exam can also help you improve your overall data analysis skills. It can expand your knowledge of data modeling, visualization, and advanced analytics, which can be applied to various industries and job roles.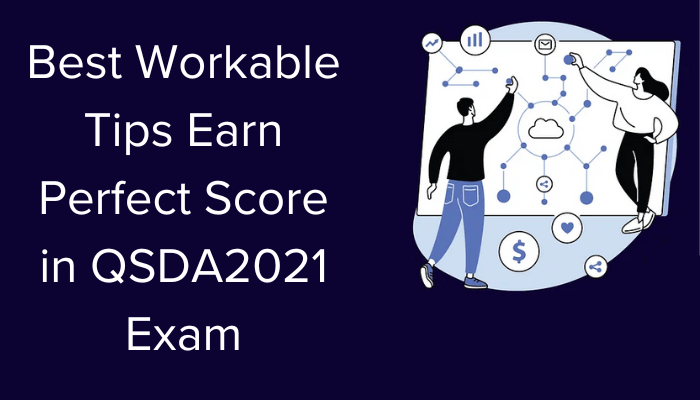 Conclusion
Finding the best study strategies for the QSDA2021 exam is crucial for success. It can help maximize your learning potential, boost your confidence and performance, save time and money, help you stand out in the job market, and improve your overall data analysis skills. So, start your preparation today and give yourself the best chance of passing the QSDA2021 exam on your first attempt.