Big data describes high-volume information pools that experience growth regularly and consistently in today's data-driven world. Using traditional data management methods has proved unable to store and process information efficiently and effectively. Getting Big Data certification offers several advantages to both professionals and enterprises.
Knowing Big Data helps organizations outside intelligence make better corporate decisions, offer improved operational efficiency, and faster risk identification with products and services. In a business environment where information is power, learning how to handle big data is a skill in high demand and advisable for any IT professional.
Who Can Take up Big Data Certification?
Job roles that find Big Data training beneficial for their career are:
System Administrations
IT Managers
Data Analysts
Researchers
Business Developers
Marketing and Branding Professionals
Application Developers
University students looking to stay current with Data Analytics
Anyone willing to learn Big Data concepts and how to use insights gained to one's advantage
Professionals who are looking to clear their suitable Big Data certification exams
Is Big Data Certification Easy or Hard?
When it comes to the difficulty expected in obtaining a Big Data certification, it depends significantly on what type of individual you are. If you are the kind of person who enjoys looking for patterns in data, it will be interesting for you, but if the idea of staring at a spreadsheet sounds like a nightmare to you, it might be a little trickier because of the level of interest would not be there.
Many of these certifications require quite a bit of studying and memorization. However, suppose you have already dedicated yourself to a data scientist career. In that case, the chances are that you have already learned many underlying concepts and worked with software that operates on similar principles.
Benefits of Big Data Certification
As per some recent strategies, many organizations could not meet the customer's demands due to the complexity of data to analyze and process the data. To avoid these types of issues, Organisations are implementing Big Data technologies. Across all regions of the world, 53% of the 1,217 companies had undertaken at least one Big Data initiative. The graph shows country-wise how many companies are launched big data initiatives.
Organizations need skilled Big Data professionals to improve efficiency and enhance the business. Big data professionals' designation is based on two perspectives in the Big Data industry: those who process the data and store the data. Becoming a Big Data professional will have many benefits such as Career growth, better salary, better job opportunities, upgrade to new technologies, and various big companies will hire you.
Career Advancement through Big Data Certifications
The gain is not only quick; there is also a long-term logic in learning the ropes of Big Data and Analytics, and doing a Big Data certification is how to leapfrog your career from a traditional IT job to a futuristic Data Analytics profession.
Moreover, you can select from several Big Data certifications according to the career path you wish to adopt- Architecture, Data Science, Business Analytics, Big Data Development, Administration- the options are many to fit your preference. Most of these courses have a skill-level-based progression from beginner to intermediate to expert, letting you are learning access to progress fast in your new career.
Job Prospects for Big Data Certified Professionals
According to customers' requirements and market trends, professionals with Big Data certifications are in high demand due to enterprises moving away from traditional to data-driven product development. Let's check out which top companies hire certified Big Data professionals globally.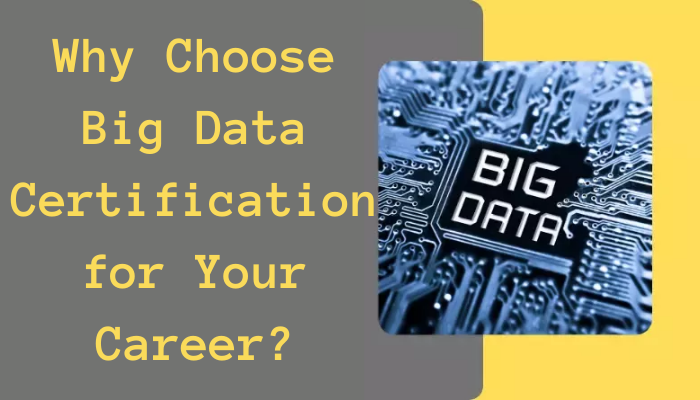 Some of the leading companies hiring Big Data professionals include Wells Fargo, Cognizant Technology Solutions, Accenture, Deloitte, Google, Capgemini, TrueCar, Geico, EY, Apple, Verizon, and Genpact, and many more. You can check your local job listings to see relevant Big Data career opportunities near your region.
A certification may matter less if you have been working in Big Data for a decade, but it is an excellent way to demonstrate your capabilities to those starting.
Summing Up
Choosing a Big Data certification that suits your career aspirations is essential. Several career paths are available within the Big Data and Analytics stream- Developer, Data Architect, Business Analyst, Database Administrator, Data Scientist, Data Engineer, etc. After analyzing what suits you in terms of interest, career progression, and opportunities, you need to choose the certification.