Have you thought about getting certified in Qlik Sense Business Analyst?
Qlik Certification Programs are well-known for assessing Qlik Partners' abilities and expertise. You will require expert-level expertise to sell, install, create, develop, support, and manage Qlik Sense in an organizational context. As a result, Qlik Certification exams need a lot of preparation to pass the exam. Consequently, you may feel satisfied with making a valuable credential after passing your test. The Qlik Sense Business Analyst certification will assess your abilities to identify needs, create applications, prepare and load data, and construct apps.
So, to get clarity with the Qlik Certifications to pass the expert-level exams, we will learn the process of getting hands-on experience with different Qlik applications or deployments using the details below.
So, let's begin with passing the Qlik Sense Business Analyst Exam by gaining knowledge, understanding the need, and finding out various study methods.
Is Qlik Sense Business Analyst Certification for You?
This certification is suitable for people who have been using Qlik Sense for some time, both as a consultant and as an end-user with technical skills. If you have done several projects with Qlik Sense as a consultant and have been involved in all project layers, from scripting, modeling, set analysis, design, and implementation of dashboards and QMC.
The Qlik Sense Business Analyst Certification exam evaluates your abilities for specifying requirements, designing applications, preparing and loading data, and creating applications using Qlik Sense software. This exam consists of 50 multiple-choice questions that have a time duration of two hours. If more than one response is required, the question will decide how many responses you must provide. Some questions will have a show that should use to answer them.
Regarding exam delivery, PearsonVUE is in charge of all exams. They can be taken in a PearsonVUE proctoring from the comfort of your home or workplace. Each exam costs USD 250 and may be paid online using a credit card on the PearsonVUE website. Because Qlik does not require price examinations in several currencies, your bank will pay your local currency.
Furthermore, Qlik certification exams are only available in English in the United States. If you live in a country where English is not the national language, you will be given an automatic 30-minute extension to your exam duration. Exam scores are computed by summing up the correct answers and assessing whether this is greater than or less than the exam's minimal passing score. The Qlik QSBA2019 Exam requires a minimum score of 72% to pass.
Preparation Tips for Qlik Sense Business Analyst Exam
We have reviewed the exam requirements, which provide a list of essential knowledge and expertise you should have before taking a certification exam. Now is the time to learn about the advanced exam preparation resources, which include training and materials for the Qlik QSBA2019 Exam.
1. Exploring the Qlik Sense Business Analyst Exam Topics
Let's begin with QSBA2019 exam topics to learn about the sections and objectives used to create the exam questions. This will be useful for a better review while studying for your exam.
The Qlik Sense Business Analyst Exam will require you to show different abilities. As a result, you should become familiarized with the exam's topics. The exam subjects, on the other hand, are organized into sub-topics. Understanding the exam highlights can assist you in deciding which skill areas require the most attention. Consequently, you can manage your study time better and ensure that necessary knowledge is thoroughly assessed before the exam.
2. Learning Concepts Using Qlik QSBA2019 Training
To begin with Qlik Sense Business Analyst Certification, Qlik supplies a range of training options. In-person or virtual instructor-led training is available. Qlik classroom is a self-service training platform that features regularly updated courses. The program will teach you the fundamentals of using Qlik Sense and the basic ideas of the Qlik Sense Business Analyst Exam.
3. Gaining Hands-On Experience
Before taking the Qlik QSBA2019 exam, it is highly advised that you have hands-on experience with Qlik Sense in a corporate context. Working through challenges when designing apps and data models, or using a Qlik Sense site, will supply you with the necessary skills and expertise.
4. Taking Online Qlik Sense Business Analyst Practice Tests
Taking and reviewing Qlik Sense Business Analyst practice tests might help you track your progress. By taking the practice test, you may examine what you have studied and what you still need to learn for the exam. Additionally, practice tests may assist you in concentrating on single-domain courses, which is an intelligent beginning step for better preparation. So, begin taking full-length practice exams once you have studied the domain to understand your strong and weak areas and increase your revision abilities.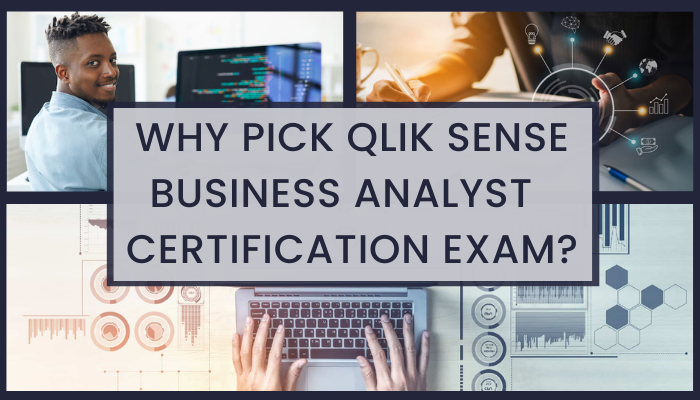 Final Words
The Qlik exam is the ideal method to open doors to regular career options by demonstrating your passion for the profession and developing your knowledge. However, while preparing for the QSBA2019 test, you will gain different abilities that will assist you in reaching your professional goals more quickly. As a result, to improve your preparation, you must consolidate all of the essential areas.
Start studying for the Qlik exam step by step, make a study plan, understand test patterns using the resources available above, and take practice tests for complete revision.