SAS is an integrated software suite for advanced analytics, business intelligence, data management, and predictive analytics. The candidate will learn about business intelligence, business analytics, and data manipulation using SAS to debug it. The skillsets this SAS Visual Modeling certification offers, like predictive analysis, visualization of data, and modeling techniques, are sure to fast-track the candidate's career for the better.
SAS Visual Modeling certification is the Global Certification Program which includes credentials that validate the SAS skills in analytics. It helps SAS professionals achieve their career goals.
Helpful Preparation Tips for SAS Visual Modeling Certification
Preparing for this A00-274 certification test requires discipline and hard work. It is different from those exams you qualify for over the weekend, even if you have some level of expertise in the domains. There are many topics and components to cover, and you can hardly deal with them over a few days of preparation. It means that you have to develop a strategy that will help you prepare effectively for SAS Visual Modeling so you can ace it on your first attempt.
In this guide, we will take a look at five valuable tips to help you in your preparation so you can have effective learning.
1. Create the Perfect Workspace
You need the best study materials to prepare for SAS Visual Modeling. First of all, you need a workspace. It can be simple, but it should be adequate to take your preparation resources, including your computer system, books, and other necessary tools. Your workspace should be free of anything that can distract you.
2. Develop a Study Plan
Now that you have created your particular workspace developing a plan is next. How long can you dedicate to learning daily? Remember that you are not going to do this in an unstoppable mode. You have to devote a couple of hours for the next few weeks to your preparation process, and as soon as you take your A00-274 exam, you can return to your routine. This means that you can experience inconvenience during your preparation.
If you ordinarily spend hours after work watching TV, you need to cut down on the hours you spend on it to take some time for a training course or a mock test. All you need to do to have sufficient study time in the following weeks of your preparation, and you should be prepared to do to avoid the possibility of taking SAS Visual Modeling more than once. Plan your hours based on the available time.
3. Choose Your Preparation Resources
Get these materials and be ready to study. There are different types of study materials, including video tutorials, classroom training, self-paced training, and books that you can use. All these tools are at your fingertips. Make sure you follow your plan and work towards the date that you have scheduled. As you continue your study, ensure that you keep track of your progress.
4. Take A00-274 Practice Tests
In addition, dedicate your time to answering A00-274 practice questions. They will help you identify your weak and strong areas. You will also be able to know how far you have gone and how much you have assimilated in the process. Thus, you will know what areas should be improved and which ones are already mastered by you. We recommend staying on your scheduled date because you may not take the exam at the end of the day. However, if you treat this date as your final option, you will study hard and work towards it.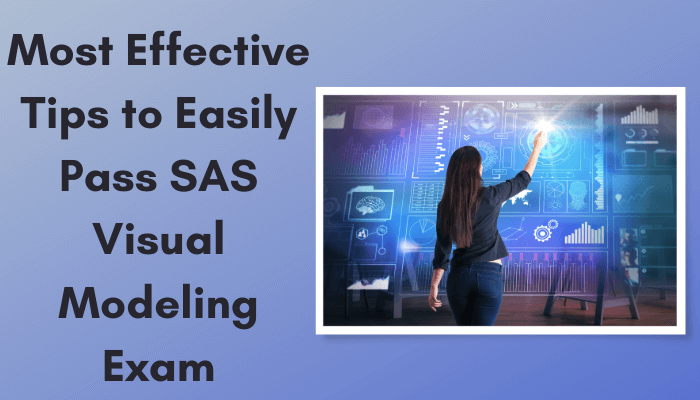 It offers some practice questions you can answer to evaluate your level of knowledge. In addition, the platform allows the students to take these questions in a simulated environment replicating the actual setting. With this, you can feel the atmosphere of the real SAS Visual Modeling exam. When you are taking practice questions, it is crucial to strive for the highest score. By default, you should get at least 95% in your practice test to increase your chance of success.
5. Don't Worry About Your SAS Visual Modeling Exam
When you have done all you can in preparing for the SAS Visual Modeling certification test, relax and hope for the best. Fretting about it will not help you, and as a matter of fact, it can make you lose focus. Therefore, instead of worrying, believe in your ability to pass.
Conclusion
Following these simple steps will guarantee a higher score than those who cram all the information they see or do not prepare for the SAS Visual Modeling exam. You should try these tips for yourself and see how much you get.