Red Hat certification is a popular certification with both employers and professionals. Achieving this certification proves that you are skilled in systems administration tasks based on Red Hat Linux Enterprise Systems. The RHCSA certification demonstrates an individual's expertise in running Linux systems. It will always be a popular qualification worldwide because employers prefer Red Hat Certified individuals. More and more individuals find it essential to obtain Red Hat certification.
Red Hat Certified System Administrator (RHCSA) exam is a leading and recognized certification to aid candidates in assembling up and incorporating administrative skills used in Linux distribution. It also opens the door to more advanced certifications in the same sector that the potential employers would require for meeting specific organizational goals.
RHCSA certification helps get you a system administrator role in any reputed organizations you wish. This certification requires excellent and in-depth commanding knowledge and expertise on Linux systems. The course also teaches security management, shell commands, server management, managing users, and setting passwords. So before you start your job hunt, make sure you are qualified for the role.
The Red Hat Certified System Administrator (RHCSA) EX200 certification is an exam that comes with a comprehensive guide on the skills and knowledge about the administration system based on different elements.
What Do You Require to Do to Pass the Red Hat RHCSA EX200 Exam?
The first thing is to find out what the exam objectives are. You can only start preparing for your exam if you comprehend what you need to cover and what the exam is all about. Once you get this, look for study materials. It is suggested that you get a certified trainer to take you through the required course. Use study guides and practice exams to help you gauge how prepared you are for your exam. The critical thing is to prepare well for this exam.
Red Hat EX200 exam is a practical exam that you must complete within 2 hours and a half. It is a hands-on exam because candidates must demonstrate that they can perform detailed tasks they will face in the workplace. It tests your readiness for functions in an actual world situation.
The examination comes with testing the skills based on the foundations that come with all the products of Red Hat. In this certification, time management also holds a vital role, as the people emerging for the exam will have to give proper time to the academic part, labs, and learning times. The skills and knowledge tested in Red Hat EX200 are the foundation for the system administration throughout all the Red Hat products.
Latest Tips for RHCSA Exam
1. Practice for Perfection
For you to pass any exam, practice is unavoidable. So is the case with RHCSA. Since this is a hands-on exam, you cannot learn the topics by heart. Switch on your computer now and start working through the lessons but only after reading the instructions. It is essential to know what you have to do.
2. Time Management
The RHCSA exam is lengthy, and you may not have enough time in hand. Be organized and complete the more straightforward assignments first to gain confidence. You may then go for the ones you feel are problematic. Remember that attempting them first wastes a lot of your time, thus making you nervous.
3. Understand the RHCSA Exam Objectives
If you are an experienced administrator, you may find some objectives easy. But when it comes to the tougher ones, you lose hope. Never underestimate the exam, as many experts have failed just because they failed to grasp the objectives.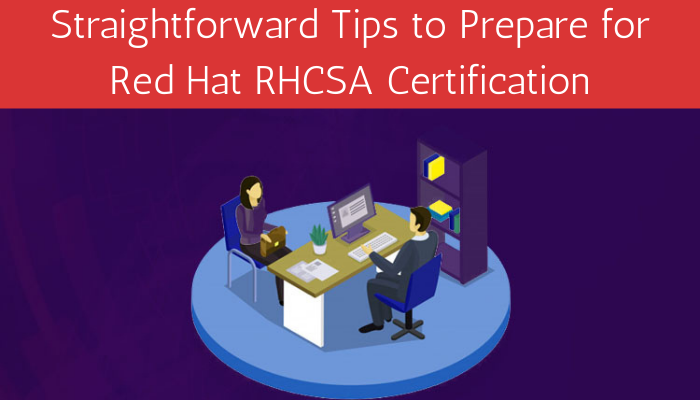 4. Cover All the Areas
There is a wide variety of topics in the exam, and you may not be familiar with everything. You might have worked as a system administrator for many years, but the Red Hat Certified System Administrator exam asks for more. An admin usually focuses on a limited number of tasks and may not have expertise in areas outside their limit. While preparing for the exam, make an effort to cover all the topics and understand the latest developments.
The Bottom Line
The bottom line is that the RHCSA exam is not as easy as you think, and the assignments require you to perform real-life tasks that require thorough knowledge and skills. So, rely on regular practice to ensure that you do not lose touch with the subject.